CrossFit YouAct Eindhoven
CrossFit allows you to achieve the best possible all-round fitness. It's the sport of fitness. We do not use only one training method for this, but get the most out of various sports. We use natural movements and activities we encounter in our daily lives. You train in the way your body is meant to move. This allows you to achieve real all-round fitness!
In the neighbourhood and looking to do a drop-in? You're welcome in our box! Register and sign-up directly via our app SportBit to join a class.
Our training programmes
Are you curious about our training programmes? YouAct provides every type of training within CrossFit. From the well-known WOD programmes to a Personal Programme made specifically for you. Below, we will delve into the material and you will discover the strength of each programme.
YouAct is about you!
We are a small-scale organization and train with a group of super motivated people. There is a convivial atmosphere, but we're also extremely passionate. CrossFit YouAct Eindhoven is for everyone. Regardless of your age, fitness, health or goals: we let you experience how CrossFit affects moments in your daily life.
However, the results require hard work. You have to do it yourself! Do you feel responsible for your fitness? Are you prepared to work hard and are you willing to persevere in order to achieve your goals? Then sign up for a registration interview with YouAct; we'll be happy to get to know you..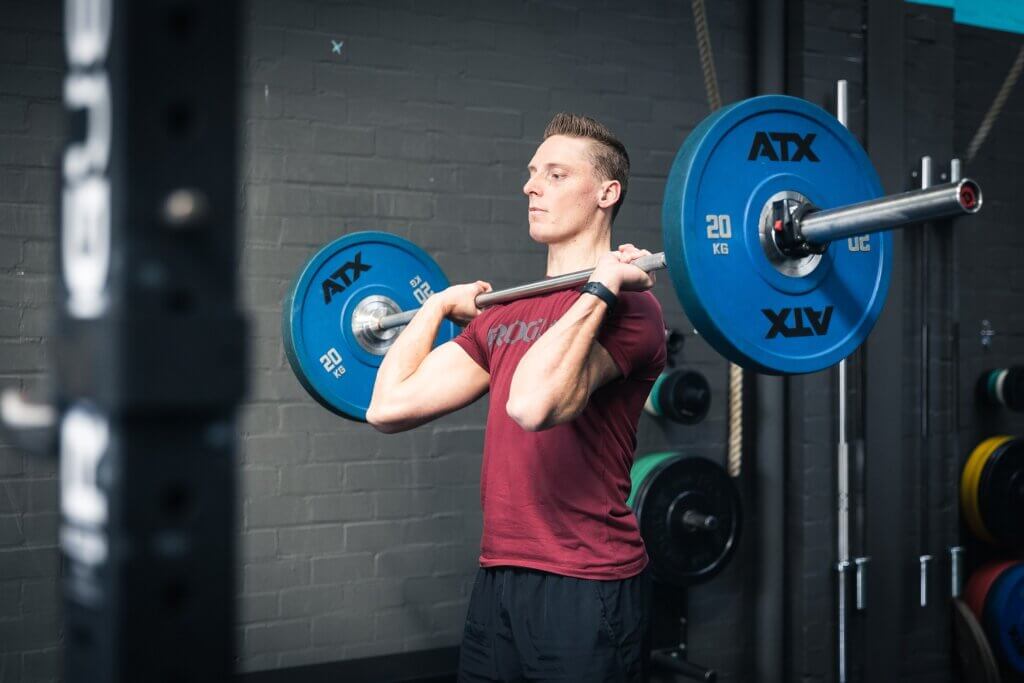 Is CrossFit really for you?
At CrossFit YouAct Eindhoven, we teach a mix of cardio, gymnastics and weightlifting. This allows you to train every element of your physical fitness in a functional, varied and intensive way.
Not only can CrossFit be combined with similar programmes, but it is also an addition to your own sport. Are you training for a marathon, cycling competition or another sport? CrossFit is the perfect addition to this. We'd be happy to tell you all about it!
New to CrossFit?
We'd love to meet you! Sign up below via SportBit for a personal intake at our box with one of our trainers.
Do you have experience with CrossFit?
If you're an experienced CrossFitter, we'd like to get to know you first through a personal intake at our box. Sign up below via SportBit.
What our members say about us:
Our members are of course the best people to tell you about what it's like at CrossFit YouAct.

After skating, cycling and personal training with Frouke, she started her own CrossFitbox in 2014. I googled CrossFit and soon came to the conclusion that it wasn't the sport for me… However, Frouke motivated me to participate, since you can scale everything and can always participate at your own level. And she was right! As the oldest member of YouAct, I hope to be active in this special group until I'm 80. Thank you Frouke for convincing me!
Lees verder

I joined YouAct to get more challenge and variety in my workouts, in addition to mountain biking and cycling. The aim was to get faster and stronger. CrossFit has strengthened my core and upper body, allowing me to get even more out of my other sports. No training is the same with the WOD, which stimulates my body to learn new things. The trainers coach and encourage me every WOD to get the most out of myself, without a tedious routine.

At the end of 2019, I started at CrossFit with about three training sessions a week. This soon became four, and then five times a week. I was addicted to CrossFit in no time due to the great training and awesome coaches at YouAct. With the various specialty training courses and personal attention, my Olympic lifts and gymnastics have improved by leaps and bounds. In addition to the fine training sessions, the coaches are also genuinely interested in everyone. For me, YouAct feels like my second home. I look forward to the workout every day!
Lees verder

After I was forced to stop playing football due to a knee injury, I started CrossFit in 2016. The personal trainers at YouAct made me fitter than I've ever been. I enjoy going there four times a week and I get better with every workout. For me working out is fun and not an obligation, mostly due to the atmosphere, the community and the challenges.

After moving to Eindhoven I was looking for a CrossFit box. Ever since my trial class, I've been a regular member at YouAct and enjoy every single second of it. The trainers have been helping me achieve my goals with very effective workouts. My physical capabilities improved significantly. Moreover, the community at YouAct makes me feel at home. I'd advise anyone considering joining a gym to at least participate in a trial class or join the introduction course and feel the experiences themselves.
Lees verder

As a CrossFitter I'm very fond of all aspects of Olympic weightlifting. Learning and performing these technical lifts properly requires dedication, concentration and the right environment. YouAct offers me that environment. The trainers know my ambition, my body, and where I stand in my personal development. The really cool community does it for me. I feel at home at YouAct!

After 2 years of doing workouts at YouAct, I became pregnant. YouAct put together a program for me where I could work on my personal goals, keep exercising for as long as possible, and retain as much strength as possible for pull-ups. Each training, my personal health and well-being was taken into account. This way I could keep exercising until week 38 of my pregnancy. After the delivery I noticed that my strength and condition quickly returned.
Schedule